Amazing Real Estate Social Media Accounts
Social media has been a powerful tool for the real estate industry. Real estate social media accounts have sprouted up everywhere! Brokerages, publications, investment firms and real estate agents are all on social media.
Below is a list of amazing real estate social media accounts! Click on the buttons below to skip to your favourite platform!




Instagram

 – Real Estate Social Media
The Real Houses of Instagram
Kate Rumson is as inspiring as her Instagram page. She's an interior designer, real estate developer, investor, construction expert and social media guru. Over the last few years, she's racked up over 1.7 million followers on Instagram for a good reason. Her posts are absolutely stunning.
Shawn Elliott
Shawn Elliott's popular and growing Instagram page with almost 27,000 followers features images and videos of incredible looking luxury homes and advertisements for open houses. Shawn also makes sure to include some fun images of him and his friends enjoying themselves so his account isn't all about business.
Chad Carroll
Chad Carroll is a Real Estate Broker in South Florida. He possesses a wealth of experience in finance, contracts and negotiation, as well as real estate. His instagram account consists of astounding and appealing homes that he's selling. From interior to exterior, Chad always has something to share for his massive amount of followers.
Dusty Baker
Dusty Baker is a young real estate agent residing in California. His instagram account is a way of getting an inside scoop on how awesome he really is. He shares photos of not only his properties and achievements but he also shares pictures of his family. His Instagram account will inspire and encourage you to want to learn more about the beautiful homes he sells.
Joyce Rey
Joyce Rey is no small agent as she has represented a mass of million dollar estates. With all this success Joyce is dedicated to her many philanthropic projects which include UNICEF, Blue Ribbon and Public Library foundation. With all this, Joyce frequently posts about her beautiful and luxury real estate properties on her Instagram account as well as some inspirational quotes to get you motivated!
Mark Salerno
From a young age, Mark Salerno's dream job was to become a real estate agent. With over 12 years of work he aims to provide exceptional service and carry forward his team. Mark does an exceptional job at posting beautiful various types of homes on his Instagram page, where he has over 21,700 followers!
Jade Mills
Jade Mills is an agent who specializes in the luxury home market. She's known mostly for her integrity, loyalty and professionalism. With that being said, Jade's Instagram is worth taking a look at! She showcases stunning properties and a glimpse of her personal life. Definitely a great Instagram page to follow and you won't regret it!
Cindy Ambuehl
Cindy Ambuehl is a Los Angeles based actress-turned real estate agent. She shares stunning photos of listings to her 38,000+ followers. She also enjoys posting funny videos that keep her followers entertained and engaged.
Jorge Uribe
Jorge Uribe is a Miami based real estate agent, specializing in selling "ultra" luxury homes. He is senior vice president of the prestigious brokerage, Sotheby's International Realty. He shares awe inspiring photos of luxury listings to his 7,835 followers on Instagram, which you should check out now!
Douglas Elliman Real Estate
Douglas Elliman Real Estate has many teams and agents across the US, and internationally. They post gorgeous photos of both their listings and accomplishments to their 89,000+ followers. You will definitely want to buy a new home after checking out their feed!
Drew Fenton
Real estate agent Drew Fenton has a popular Instagram account on which he shares photos of stunning and beautiful interior and exterior designs of the properties. After visiting his Instagram page, you'll surely be inspired to buy a new home.
Chris Cortazzo
Chris Cortazzo is a popular real estate agent in Malibu, California. On his Instagram account, he shares pictures of Malibu's most beautiful, luxury, and modernized homes. He also likes to add a personal touch to his instagram account by posting images of him, his family and his friends. Visit his page and you will be a fan too!
The Agency
The Agency is a luxury real estate brokerage and lifestyle company in Beverly Hills that aims to redefine and modernize the real estate industry. On their Instagram account they post images of properties varying from beach houses to luxury houses in the hills and they also make sure to include inspirational quotes to inspire and encourage their large amount of followers.
Colin Egglesfield & Tyler Neitzel
At Stage 2 Properties, Colin Egglesfield and Tyler Neitzel are dedicated to improving communities in Chicago's South Side. Sharing their progress and achievements with their almost 8,000 Instagram followers, they renovate run down properties and turn them into "family homes", helping to improve neighbourhoods and lower crime rates.
Julie Sidorevskaya
Julie Sidorevskaya and her team are dedicated to providing amazing service to their clients. The Miami based real estate agents post photos of stunning listings to their 19,000+ followers. Clients are their top priority and Julies Realty keeps their audience posted about different events they host to educate their staff and keep them on their toes!
Intero Real Estate Services Houston
If you're looking for innovative and passionate real estate agents in Houston, look no further! Intero Real Estate helps over 2000 families buy and sell homes annually. With over 10,000 followers, they post about all the fun events and activities they run. From handing out roses on valentines, to running blood drives, they are really giving followers a sense that they are part of a family!
https://www.instagram.com/p/BDVkQn6Cgwd/?taken-by=interohouston
Dustin Purtan
Dustin is a real estate agent, entrepreneur and an investor. Dustin operates Purtan Capital, LLC which was only founded in 2018 and its purpose is to generate revenue through sales, marketing, and investing. He does an amazing job allowing people to get to know him through his Instagram by posting pictures with his family and it's pleasing to look at!
Jeb Carty
Jeb Carty is the CEO of Zumbly, which is a website that offers a new way to search and analyze the residential real estate market. When Jeb isn't working on Zumbly or his real estate business, he is probably outdoors enjoying his physical activities. His Instagram offers an in depth look at his personal life and his professional life.
---
Facebook

– Real Estate Social Media
The Boutique Real Estate Group
It's safe to say that you could follow The Boutique Real Estate Group on any of their social media accounts. But, with over 30,000 likes on their Facebook page, we saw it fit to include them in this section! However, it's not just about likes, they also get hundreds of likes, loves and wows on every post!
The Corcoran Group
The Corcoran Group is a residential real estate firm located in New York while also serving Manhattan, Brooklyn, The Hamptons, South FL and many more. They share jaw-dropping images and videos of interior and exterior designs of properties for their 180k+ amount of followers to enjoy.
Cervera Real Estate
Cervera is a popular real estate brokerage company located in Miami, Florida. They share stunning images of interior design and breathtaking views of properties they're selling. From posting blogs to pictures and videos, the company has managed to gain over 140k+ followers on their Facebook page.
Christie's International Real Estate
Christie's International Real Estate has become a global authority on the effective marketing of distinctive properties. They share photos, videos and blogs on their popular Facebook page promoting and advertising homes they're selling. They also offer tips and tricks for their followers on how to successfully improve their homes.
ComFree
ComFree is a Canadian commission-free real estate network. The network gives customers the freedom to sell their homes without giving up thousands of dollars in commission. Their astonishing posts of beautiful homes and their services on their Facebook page inspires homeowners sell their homes successfully and feel empowered.
https://www.facebook.com/comfree/photos/a.250550494971596.81931.156105581082755/1411030932256874/?type=3&theater
Luxury Portfolio
Luxury Portfolio International is the luxury face of Leading Real Estate Companies of the World. Theie award-winning website was launched in 2005 and in its first year featured more $1 million plus properties. Their facebook page features jaw dropping and extraordinary images of luxury and modernized homes.
REIN
The Real Estate Investment Network is one of Canada's leading real estate research and education companies. Their mission is to educate its members about how, where and when to buy Canadian real estate. Their blog posts and interview posts provide their followers with the ability to gain a better insight on real estate overall.
Bond Real Estate
Bond Real Estate is an incredible residential brokerage in New York. As you can tell from the post below, Bond is growing and expanding into new markets. Their Facebook fans are continually updated with exciting news like this and of course, with great listings!
---
YouTube

 – Real Estate Social Media
Borino B
If you strive to become a top listing agent, Borino B's videos are just for you! In his coaching sessions, he breaks down the steps to start taking good listings. With over 81,000 views and over 100 positive comments, you know he is producing quality content.
Loida Velasquez
As an experienced real estate agent, Loida Velasquez posts videos giving awesome advice and shows us a glimpse into the world of a real estate agent. With over 56,000 views, she covers a wide range of real estate topics.
Luna Ge
Luna Ge has taken us along her journey as a real estate agent. She posts videos on a variety of topics such as cold calling, exam tips and rentals. Some of her videos have reached over 8,000 views and she is continuing to create engaging and useful content for her subscribers.
Tatiana Londono
Tatiana Londono is a real estate agent from Montreal. Her video "How to Successfully Prospect Expired Listings" is one of many videos she has posted on her channel. She created a segment called "Tips of the Day" where she provides advice on what to wear, prospect buyers and presentations. If you need advice or have concerns about anything real estate, she probably has a video about it!
Graham Stephan
Graham Stephan became a millionaire in real estate by age 26. He posts videos on how to make smart investments and gives us a glimpse into a millionaire's mindset. He has over 100,000 subscribers and posts regularly. If you aspire to make as much money as him, go check out his channel!
---
Twitter

 – Real Estate Social Media
Melanie Lazenby
Melanie is a successful real estate agent who not only enjoys posting about her job but also enjoys posting about her everyday life. Her posts vary from posts about her professional life and her achievements to posts about her and her friends/ family spending time together and having fun.
So honored to have been named the 3rd highest grossing agent at @DouglasElliman last night at #RadioCityMusicHall pic.twitter.com/fG4Xzpm0MY

— Melanie Lazenby (@MelRealEstate) February 26, 2016
Sam DeBianchi
Sam is a popular and well known real estate agent with years of experience in helping local buyers and sellers. Her popular Twitter page attracts many followers by her posts about her properties, daily life and inspirational quotes to encourage her followers to work hard and do better each day.
Stay motivated (even through the weekend). #KIM conference is coming soon! Make sure to sign up 😉 pic.twitter.com/etQod0HTRX

— Sam DeBianchi (@SamDeBianchi) February 25, 2018
Raleigh Realty
Raleigh Realty provides a constant stream of realty focused blogs and articles. As you can see from their post below, real estate professionals engage with their content because it's so helpful! Also, check out their website: http://www.raleighrealtyhomes.com/
11 Things you should know BEFORE you buy a #home #realestate #uphomes https://t.co/tX0YYPyxpK pic.twitter.com/8ml0tk0HHg

— Raleigh Realty (@Raleigh__Realty) November 15, 2017
---
Pinterest

– Real Estate Social Media
Nathalia Cruz-Edmonds Realtor
Nathalia Cruz-Edmonds is a real estate agent at the Royal Metropolitan Group of Keller Williams. What makes her stand out is her Pinterest page. She actively posts many threads, from tips for agents, buyers, sellers and her own blogs. Her Pinterest posts are pleasing to look at and give quality information to her audiences!
Bill Gassett – RE/MAX Executive Realty
Bill Gassett isn't only a top real estate agent, he also has one of the top Pinterest real estate accounts! Bill has over 23,000 followers who enjoy his boards about Massachusetts real estate, advice for home buyers & sellers and so much more! If you're on Pinterest make sure to follow him and if you're not, sign up and then follow him, it's worth it!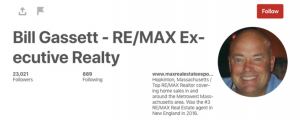 Christophe Choo Real Estate Group
Locally known and globally connected, that's Christophe Choo's well known slogan. As you'll see from his boards such as "Places I have Been" and "Views around Beverly Hills and Los Angeles", the slogan is true! If you are into the finer things in life then Mr. Choo's board is a must follow!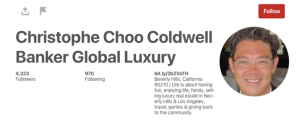 ---
We hope you enjoyed our list of 40 Real Estate Social Media Accounts To Follow in 2018!
The list of top real estate social media accounts was based on research done by our social media experts. Engagement, follows, quality of posts and many other variables were included in the research.