You see that big blue button at the bottom right of all of your Facebook posts on your page?
It looks like this…

It's tempted you before hasn't it? Maybe you went so far as to push it, click through some options and even… put in your credit card.
Whether you have just been tempted or have gone through the whole process of "boosting" your Facebook post, there are some things you need to know.
When it comes to advertising for your real estate brand or for your properties, boosting is not the best option.
We're going to explain why boosting is not the best option for a Realtor. But first, let's start with what happens when you post on your Facebook Page…
What happens when you post on your Facebook Page?
Let's start with this, everytime you post something on your business page, Facebook will show that post on people's timelines.
Like this…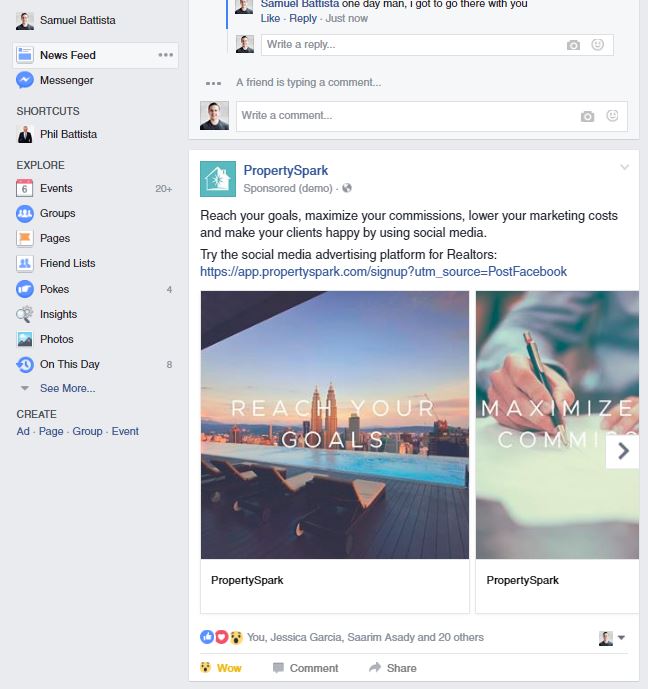 Here's the catch…
Facebook will only show that post to around 5% of the people that like your page.
Yes, that's right… 5%!
So, let's say you have 300 likes on your page. You might get 15 people to see it.
[op_advanced_headline style="1″ effect="type" align="left" accent="#000000″ headline_tag="h2″ line_height="" highlight="" top_margin="0″ bottom_margin="0″ font_size="20″]V2hlbiB5b3UgcG9zdCBvbiBGYWNlYm9vayB5b3UgbWlnaHQgZ2V0Li4uIDE1IHBlb3BsZSB0byBzZWUgaXQu[/op_advanced_headline]
So, can the "Boost Post" button help you reach more people on Facebook?
Yes.
But, there's another catch…
When you click on the boost button, you get some options. Facebook lets you decide "who" you would like to reach.
Here's the type of choices you can make: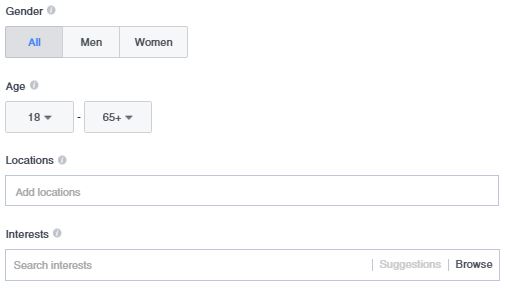 Here, Facebook gives you the option to select:
Gender
Age
Locations
Interests
A couple of these options are important when determining your audience. For example, you would mostly likely select people aged between 30 and 64 in the specific area that you specialize in as a Realtor.
However, since you'd likely choose male & female and certain interest don't really affect whether someone is buying a home… the other two options aren't going to help you.
That means you're left with every single person on Facebook, in a certain age group that's in the geographic area you selected. Depending on the area, this group will consist of tens of thousands if not hundreds of thousands of random people.
[op_advanced_headline style="1″ effect="type" align="left" accent="#000000″ headline_tag="h2″ line_height="" highlight="" top_margin="0″ bottom_margin="0″ font_size="20″]QnkgImJvb3N0aW5nIiBhIHBvc3QgeW91IHdpbGwgYmUgcmVhY2hpbmcgYSBsb3Qgb2YuLi4gcmFuZG9tIHBlb3BsZS4=[/op_advanced_headline]
These people could be looking to rent, they could have just bought a house, they could be living in a retirement home, they could be anybody.
And, here's the thing…
Facebook is more than happy to take your money and send your post to these random people.
Is there a better way to reach thousands of people on Facebook?
Yes!
But, it's a little complicated…
Essentially, what you want to do is: reach people who are actually interested in buying and selling homes.
There is no option to do this on Facebook…
But there is a way to do it.
It's called the "Custom Audience" approach.
A custom audience on Facebook is essentially a group of people that you are able to target outside of the simple gender, age, location and interest categories. For example, you are able to target people who have clicked on your ads in the past. This is called retargeting and it works like a charm.
Imagine a week ago, someone was on Facebook and clicked on a property that you just listed, like this:
Now, wouldn't you want your next Facebook post to be seen by this person?
Of course! This person is actually interested in the fact that you're selling homes.
Facebook lets you retarget that person by using something called the Facebook Pixel.
But, let's be honest… as a Realtor should you be worried about setting up "retargeting" and creating "Pixels"?
Nope. You know it, I know it, everybody knows it… you need to be focused on selling homes!
So, you have two options for getting WAY better results than the boost button:
Figure out how to use the Facebook Pixel, create it, install it on your site's code, set it up in the ads manager… etc.
Try the platform that we made for Realtors… for free!
We created PropertySpark – a platform where Realtors can advertise their properties, themselves and of course retarget the people that are interested in them and their properties.
We do all of this by allowing you to leverage the power of Facebook retargeting – without having you do any of the work.
You will get over 10x more clicks and engagements when you use PropertySpark because we are targeting the right people on Facebook.
---
Articles, posts and lists are based on objective data, subjective analysis and the opinions of social media and real estate experts at PropertySpark. If you or your brand are mentioned anywhere on the site and would like it to be taken off please contact us. Rankings on the lists are at the sole discretion of experts at PropertySpark and are not affected by third parties or the brands, companies or individuals on the lists.